Jessica Jasper M.S. joins company as swine nutritionist and research coordinator
TRACY, MINNESOTA — Rising swine nutrition and consulting company IDEAL Animal Nutrition based in Tracy, Minnesota, has announced new investments in its team and resources to support swine farmers with its trademark slat-level solutions.

Jessica Jasper joins the company as swine nutritionist and research coordinator. The staff addition is part of a broader expansion of capacity focused on serving a growing customer base. This includes bolstering expertise and research barn activity toward improved science and data-powered insights and interventions – keeping hog farmers at the leading edge of optimized production.

"The past nine months has been a whirlwind for many operations, but we're not surprised once again producers have shown their incredible resilience," says Dr. Jeff Knott, swine nutritionist and founder/owner of IDEAL Animal Nutrition. "Looking ahead we know that having strong dedicated expertise and capacity at the slat-level — along with continually improving data, technology and innovation — will continue to be critical to the success of our customers. That's where we're putting our focus. We continue to grow and see strong demand for our services. We are looking forward to this next chapter for IDEAL."
Bolstering expertise and research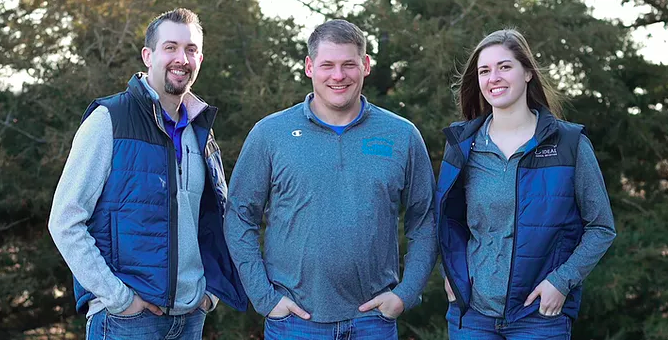 (Left to right: Simon Kern, Dr. Jeff Knott and newly hired Jessica Jasper)
Jasper in addition to strong farm and educational backgrounds also has solid research experience including interests related to IDEAL Animal Nutrition's growing focus on optimizing the connection between animal nutrition and animal health, he notes. "We are pleased to welcome Jessica to the team. She is an excellent fit with our approach and culture. She will address our dual priorities of adding swine nutrition expertise while also having someone to lead our research barn activity as it continues to grow."

Knott started IDEAL Animal Nutrition in 2014 and was joined by swine nutritionist Simon Kern in 2018. With Jasper, the team now boasts three swine nutritionists all with a shared philosophy of focusing on slat-level solutions working directly with producers.

"We feel the best way to provide value and contribute to a successful industry is by supporting the hog farmers who are on the front line," says Kern. "The attention to details and timely adjustments right at the slat-level are often what truly makes the difference to competitiveness and profitability. That's where we feel we need to be and that's where we love to be."
Science-driven advances
Today the science-based advances the IDEAL team is seeing to support this approach are a major reason for optimism, says Kern. "One of our major goals is not only keeping up with, but also very actively contributing to a growing foundation of science-based knowledge and innovation to really drive advances in swine production. We are confident this will pay major dividends for our customers and their industry both in the short and long term."

Jasper is a graduate of South Dakota State University (Bachelor of Science) and Iowa State University (Master of Science) who grew up in southwestern Minnesota on her family's row crop and pig farm near Edgerton. Her graduate research focused on swine nutrition and physiology in health-challenged pigs, specifically in PRRS challenged wean-to-finish pigs and how dietary amino acid to energy ratios can alter feed intake and growth performance. She comes to IDEAL Animal Nutrition after graduating from Iowa State University in the spring of 2020.

"I am very excited to join IDEAL Animal Nutrition and step into this new role working alongside Jeff and Simon," says Jasper. "I love being in the barns whether it's conducting research or helping farmers – both are always awesome opportunities to learn and contribute to improvement. I have really enjoyed past nutrition internship experiences and working alongside producers in wean-to-finish production. This next step is a great opportunity to continue building on the many positives of these experiences while contributing at a higher level during an important time of evolution for pig farming."
Health and nutrition synergy
When IDEAL Animal Nutrition was founded just over six years ago, an early priority was to establish a research program that could grow in capacity and activity over time to support the needs and opportunities of IDEAL and its customers, says Knott. Today the plans for increased research activity remain a top priority to drive innovation.

"There are many interesting inter-connections to explore," says Knott. "For example, we know that nutrition and health status can be independent of each other. But at the same time health status can influence our decisions on how we feed pigs. Jessica has some unique perspectives on this from her graduate research that she will continue to grow. We believe this will really help advance us and help our customers succeed in the face of heath-challenges." This includes options such as nutritional mitigation strategies, he says, along with further feed science and technology approaches to mitigate the negative growth performance often associated with health-challenges.

"As an industry, we have been playing a lot of defense in recent months," says Knott. "The health-nutrition interaction is the type of opportunity area that will help us be more on the offensive in finding and capturing new levels of success."

More information on IDEAL Animal Nutrition is available at www.idealanimalnutrition.com.